22 D FILM AWARD 2018(WINNERS) Winners of the 22nd African Film Awards
2018: See the full list
 The annual African Film Awards, presented by African Voice Newspaper UK honoured outstanding filmmakers, actors and contributors to the entertainment industry.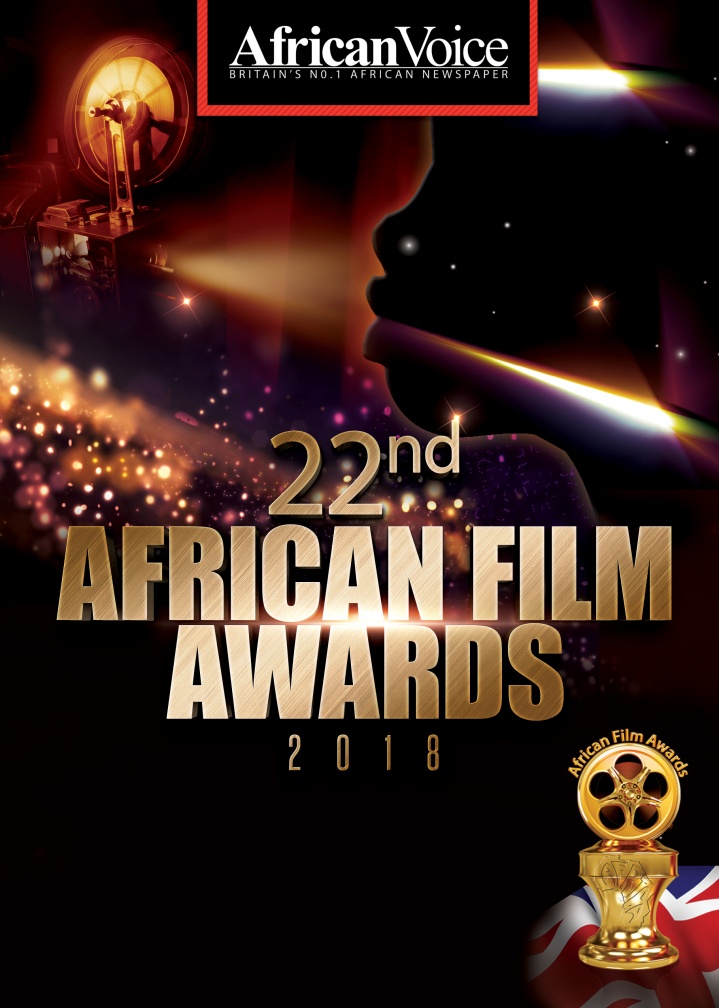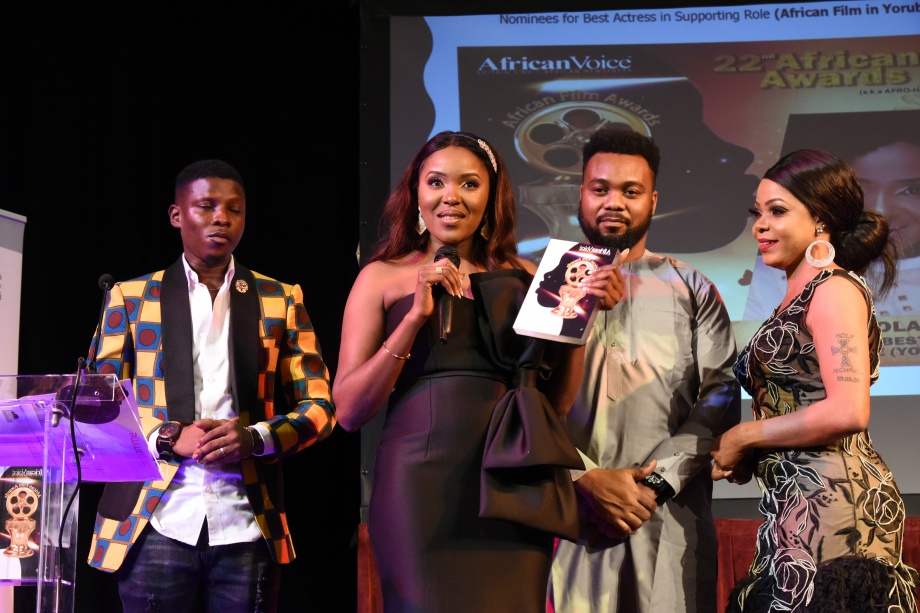 The 22nd African Film Awards 2018 which took place on Saturday 3rd November in London was hosted by the duo of Keni Ogunlola, a film director and Kalisha Johnson, a TV presenter.
Feature films such as Omoye, Alter Date, SistaSista, Maids of Docklands, and Obsession got multiple awards on the night. Burden Of Verdict by filmmaker Tunji Bamishigbin won the Best Short Film of The Year 2018.
Nigerian born USA based returnee, Bolanle Ninalowo won the African Actor of The Year 2018 and Nollywood actress Lillian Esoro won the Best African Actress of The Year 2018.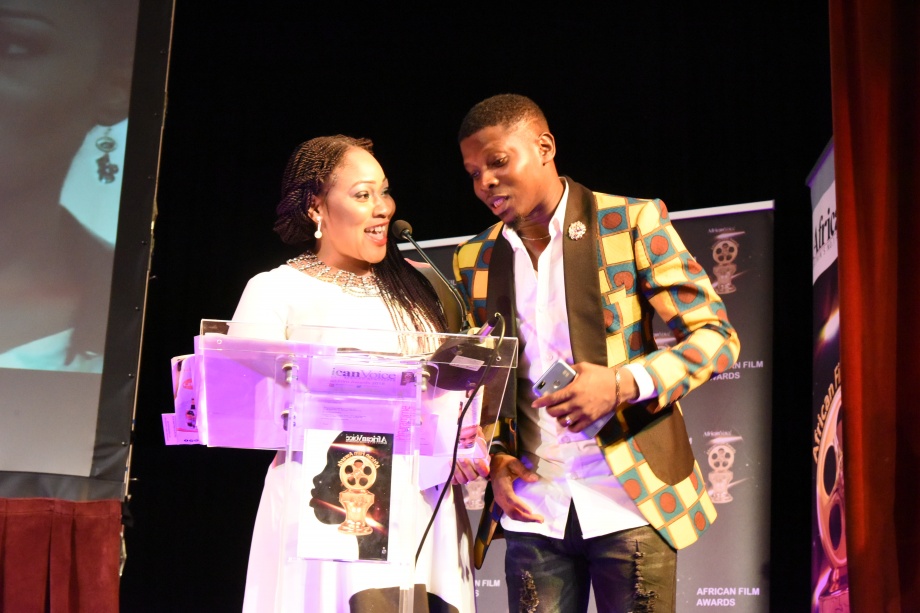 Ifu Ennada and Rotimi Salami won the Best Actress (African Film in English) and Best Actor (African Film in English) respectively. All the nominees and award winners were well celebrated by the arrays of high profiled guests that gathered at The Old Town Hall, The Broadway, Stratford City, in the London Borough of Newham Council, United Kingdom.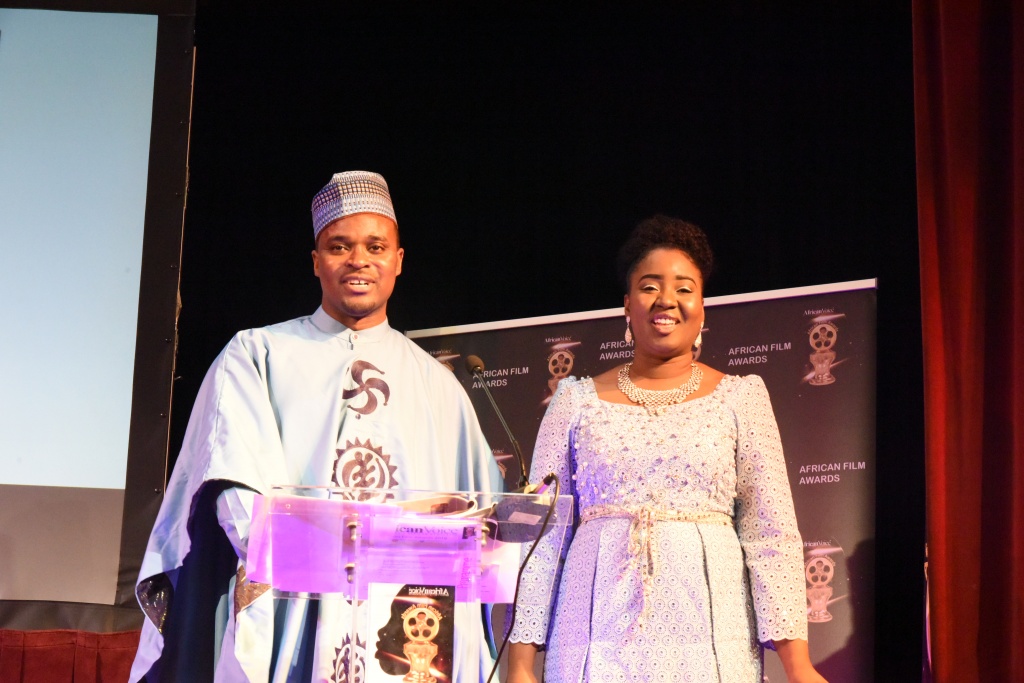 The very successful and memorable awards ceremony was attended by diplomats, celebrities, top filmmakers and A–List actors from Africa, UK Nollywood and Black British Film & TV who gathered to celebrate excellence at the prestigious African Film Awards.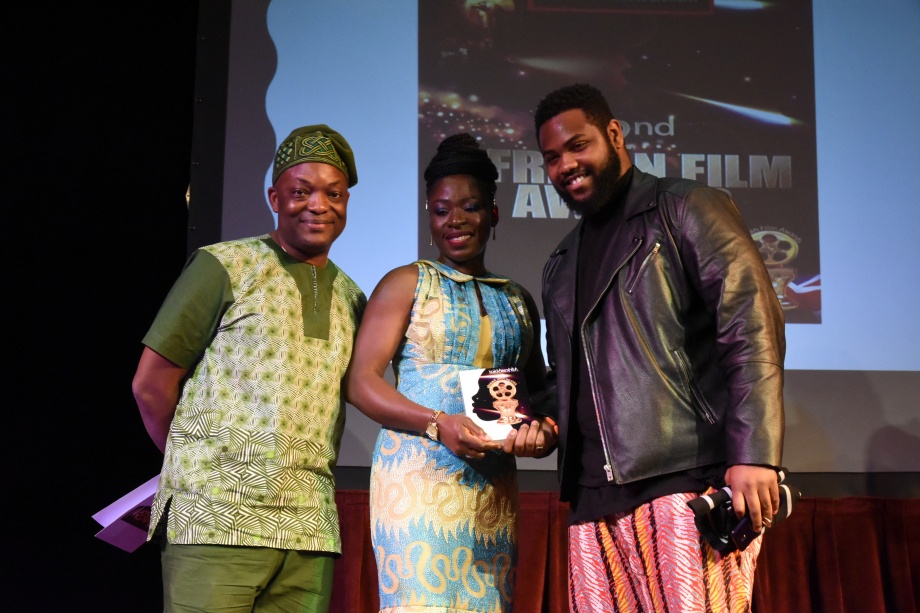 The glittering and electrifying evening, was  full of razzmatazz, punctuated by musical entertainment by many of the UK based Afro beat artistes such as Jeff Jones, Damola Davies, Oba Marteenz, Komo and fast rising Nigeria born Fuji hip hop crooner Babatunde Oludare. Taiwo Akinsola a.ka. Popee, a multi-talented instrumentalist trills the audience with his saxophone.
It was a great night for young entertainers as well, the interactive duo of Mighty Wise – Hakeem (Wise) & Maryam (Mighty), wowed the audience with their "I Am from Africa" poetic lyrics and dance movements. Jeremiah Emmanuel & Malika Emmanuel both sang with angelic voices that held the audience spellbound for a long time. 8 year old Ted Bobo, arguably the youngest British African comedian in the UK, showcased his talent to further launch his promising career.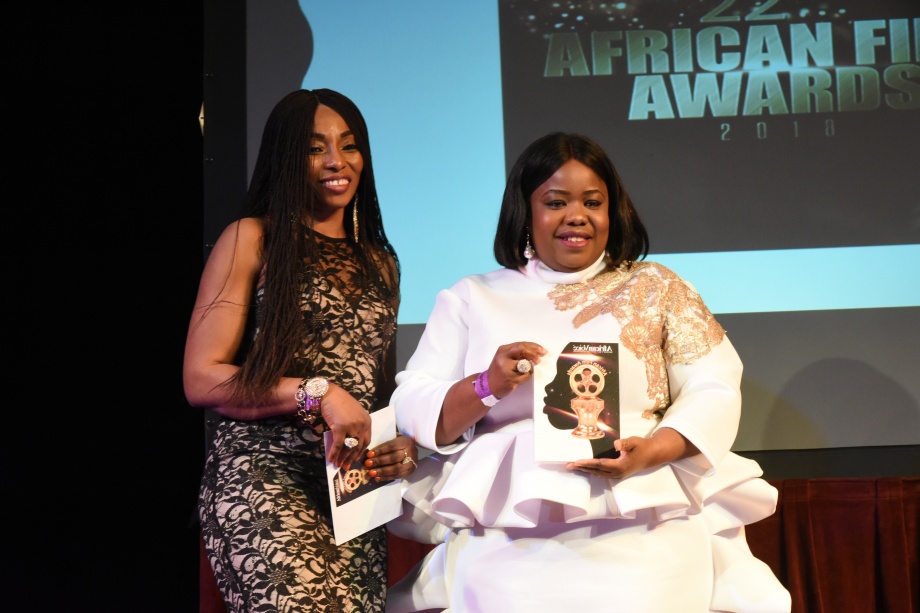 In his welcome remark, Prince Mike Abiola, founder of the African Film Awards said, "London, the culture capital of Europe has a strong influence on Nollywood, not surprising, London has hosted the African Film Awards for successive 22 years and a vibrant UK Nollywood industry has also emerged, growing new crops of talents and competing for technical superiority."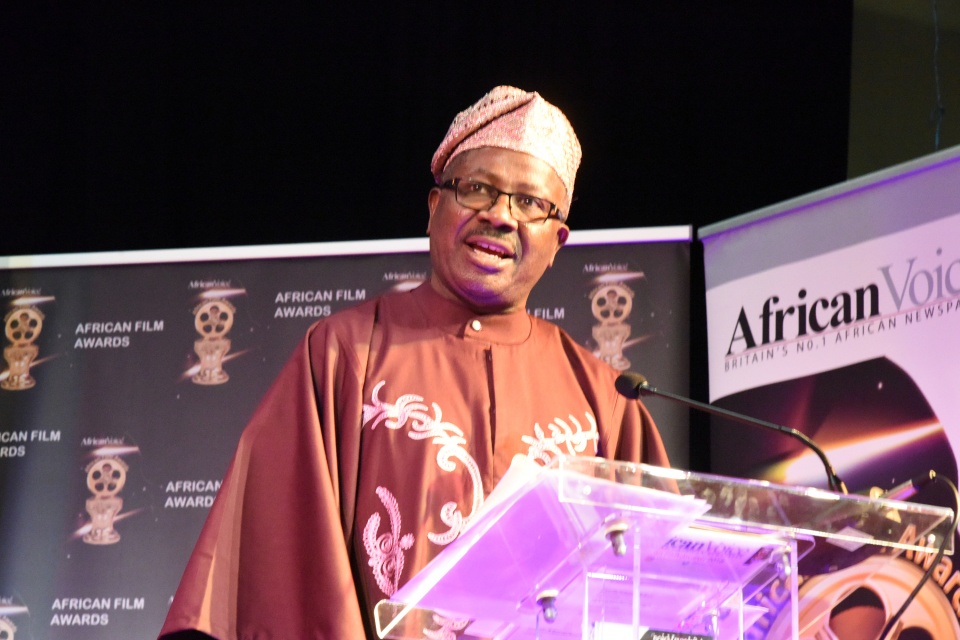 Stars from the UK Nollywood really shone very bright, with those who picked up awards, expressing delight and shock all at the same time.
Labake Labake who went home with the Best Actress UK Nollywood for her role in SistaSista, said "l am gobsmacked, I had taken a rest from acting for something but launched my career in 2016 with In A Strange Land and Apostle Do Good," Judy Akuta  picked up the Best Actress in  Supporting Role in Compatible.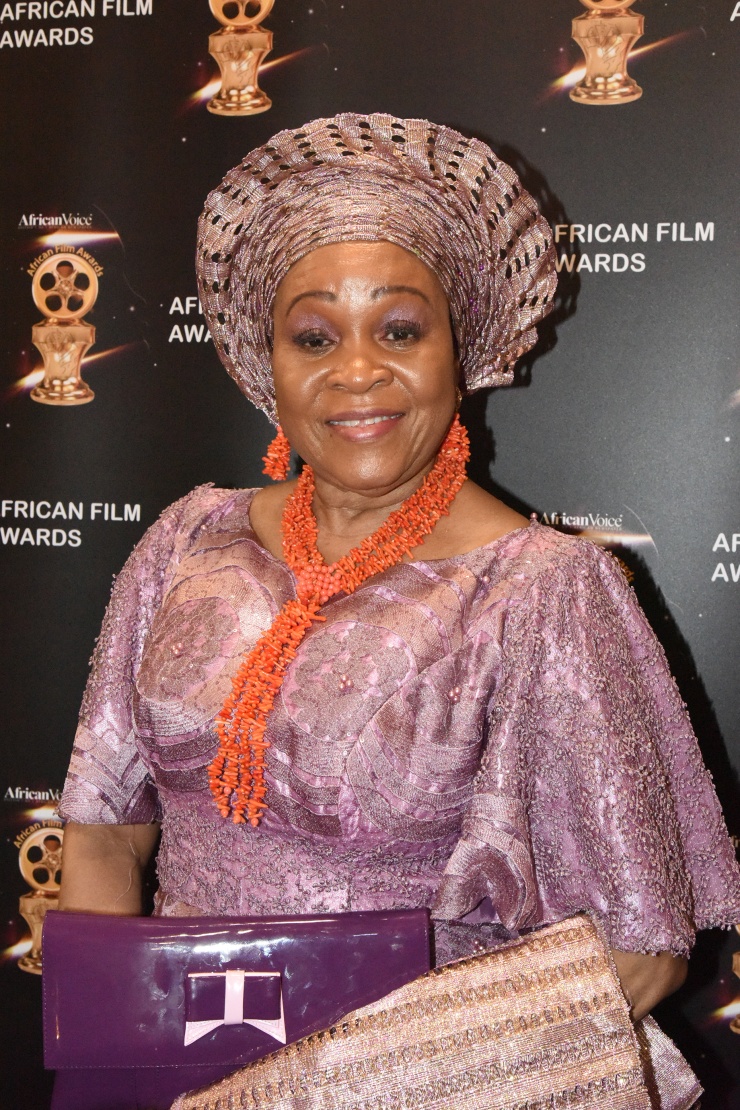 Veteran actress Golda John Abiola, African Film Awards 2018, Event Director, described the awards night as "very successful, memorable, an experience that will be cherished and not forgotten for a very long time. Thank God for His faithfulness"
WINNERS: AFRICAN FILM AWARDS 2018
Best Actress in Lead Role (UK Nollywood)
Labake Labake SistaSista
Best Actor in Lead Role (UK Nollywood)
Frank Williams Maids of Docklands
Best Actor in Supporting Role (UK Nollywood)
Matthew Faucher The 3 Kings
Best Actress in Supporting Role (UK Nollywood)
Judy Akuta COMPATIBLE
Best Feature Film (UK Nollywood)
SistaSista by Toyin Moore
Best UK Producer (UK Nollywood)
Theodora Ibekwe-Oyebade Maids of Docklands 
Best Short Films 
Burden Of Verdict by Tunji Bamishigbin
Best Director (UK Nollywood)
Marc Adebesin ALTER DATE
Best Actress (Black British Film & TV)                                         Joyce Saye Oath Bound
Best Actor (Black British Film & TV)                                                   Tobi Bamtefa – Lost In London
Best African Actor of The Year
Bolanle Ninalowo ALTER DATE
Best African Actress of The Year                                                 Lillian Esoro ALTER DATE
Best Actress in Supporting Role (African Film in Yoruba Language) Biola Adebayo
Best Producer (African Film in Yoruba Language)                      Kenny George – COMA
Best Cinematographer (African Film in Yoruba Language)          Lekan Bature & Blessing Adejumo – Osun Sengese
Best Actor (African Film in English)                                          Rotimi Salami OMOYE
Best Actress (African Film in English)                                            Ifu Ennada OBSESSION
Best Actor in Supporting Role (African Film in English)              Stan Nze – OMOYE
Best Actress in Supporting Role (African Film in English)        Judith Audu – OBSESSION
Best Director (African Film in English)                                        Uche Chukwu Agbambo OMOYE
In the Special Recognition Awards categories                       Sammie Okposo                                                                                 African Voice Leadership in Entertainment Award 2018
Alhaji Jamilu Ahmed Yakasai                                                    Outstanding Contributions to films in Hausa Language
Diana Yekinni                                                                                  Best Emerging Talent
Photo credits: Isaac Adegbite (Adesons)