Winners from the 21st African Film Awards 2017
All the winners from the 21st African Film Awards
Talking Dolls wins Best Feature – few minutes after winning Best Director
The night in pictures
Keynote Speech by AFA Founder, Prince Mike Abiola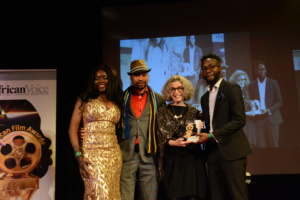 Best Actress in Lead Role
Tolulope Yesufu (HELP)
Funmilayo Awolo (Unpredictable Romance)
WINNER: Roseline Sanni Ajose (IN A STRANGE LAND)
Jenneh Amadu Kamanda (2nd Wife)
Euphemia Chukwu (Gold Dust Ikenga)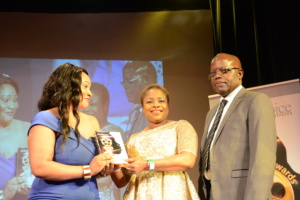 Best Actor in Lead Role
Danny Erskine (Unpredictable Romance)
WINNER: Olukunle Samuel Fafowora (2nd Wife)
William Kemeh (IN A STRANGE LAND)
Best Actor in Supporting Role
Tudor Leaf (Unpredictable Romance)
Kunle Oladeji (Talking Dolls)
Ken Smart (2nd Wife)
Malcolm A Benson (Gold Dust Ikenga)
WINNER: Max Cavenham (Desecration)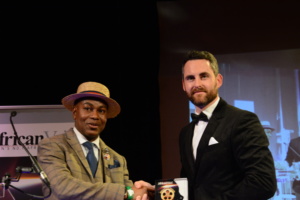 Best Actress in Supporting Role
Helen Gold Osabutey (HELP)
WINNER: Nicola Alexis (DESECRATION)
Ngozi Thompson (IN A STRANGE LAND)
Marie Gomez Sarkis (TALKING DOLLS)
Sibongile Radebe (UNPREDICTABLE ROMANCE)
Best Screen Play
WINNER: Desecration by Bode Odetoye
Help by Tolulope Yesufu
Talking Dolls by Franklin Ubi
2nd Wife by Hadiza Mohammed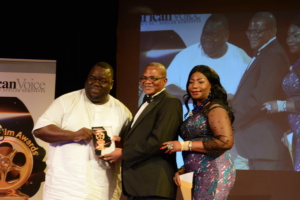 Best Feature Film
DESECRATION by Bode Odetoye
Help by Tolulope Yesufu
IN A STRANGE LAND by Roseline Sanni Ajose
WINNER: Talking Dolls by Marc Adebesin
Unpredictable Romance by Francis Uwadi
Who Am I by Stella Maris Okafor
Best indigenous movie
WINNER: (Who Am I) by Stella Maris Okafor
(Broken Bride) by George Kelly
Best UK Producer
IN A STRANGE LAND by Roseline Sanni Ajose
Who Am I by Stella Maris Okafor
Talking Dolls by Marc Adebesin
WINNER: Gold Dust Ikenga by Malcolm Benson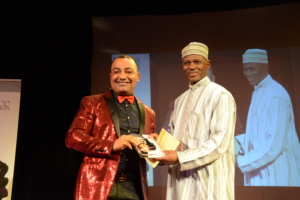 Best Executive Producer African Voice UK (Special Category)
WINNER: LABO – Dr. Sunday Popoola
WINNER: PRISCA'S PRODUCTIONS – Rev. Dr Prisca Richards
WINNER: 18 Carat Mama – Mr. Godwin Osabutey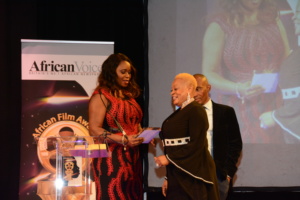 Best Short Films
WINNER: Lodgers by Keni Ogunlola
Sambisa by Uche Aguh
Yemoja: Rise of the Orisa by Nosa Igbinedion
Best Director
UNPREDICTABLE ROMANCE  Francis Uwadi 
DESECRATION Niyi Towolawi
WINNER: TALKING DOLLS Sukie Oduwole
IN A STRANGE LAND Teru Ekuerhare
Best Actress (TV Series)
WINNER: Funmi Ogidan Bello Housewives & Girlfriends
Moji Bamtefa Meet The Adebanjos
Nayo Jobson Concealed
Best Actress in Supporting Role (TV Series)
WINNER: Helen Gold Osabutey (Housewives & Girlfriends)
Moji Bamtefa – Meet The Adebanjos
Tayo Anthonio – Concealed
Best African Actor of the Year
Daniel K Daniel (Talking Doll)
Chiwentalu Agu (Who Am I)
Joseph Benjamin (DESECRATION)
Daniel Lloyd (HELP)
WINNER: Rotimi Salami (Just Not Married)
WINNER: Rita Dominic DESECRATION
African Film in (Hausa Language category)
Nafisat Abdullahi (Outstanding Actress)
Ramadan Booth (Best Actor)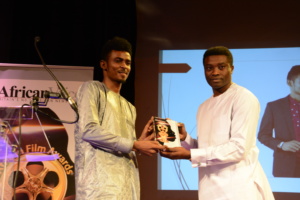 African Film in Yoruba Language category
Yomi Fabiyi Best Supporting Actor in Supporting Role)   
Laide Bakare (Best Actress)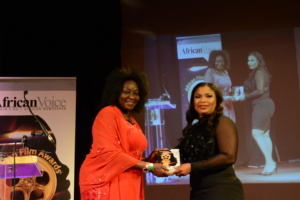 Best Actor (UK – TV Series)
Zackary Momoh (BBC Series Doctor)
WINNER: Van Vicker (Housewives & Girlfriends)
Arinze Kene (Shave The Cat)
Best Actor in Supporting Role (UK – TV Series)
Damson Idris (BBC series Casualty)
WINNER: Ken Smart (Housewives & Girlfriends)
Joshua Okusanya (Sambisa)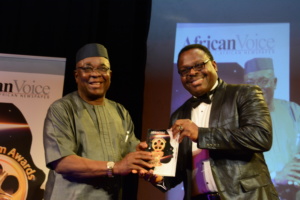 Award Founder urges African leaders to use film to rebrand the continent.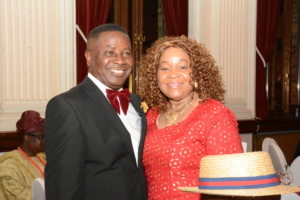 In his keynote speech, Prince Mike Abiola, founder of the African Film Awards congratulates both nominees and winners saying that they all deserve commendation. He said, "You are doing a great and noticeable work of telling our stories like no one else would".
Prince Abiola said, "Films are important tools to document, influence and entertain. Awards are not only essential for the growth of the industry it also helps investors in determining where to put their money while helping to grow the audience for filmmakers".
The founder and Publisher of African Voice Newspaper UK, the organisers of the annual African Film Awards urge governments in the continent of Africa to use film to change the narratives and rebrand the image of the continent.
He said, "Today Nollywood is the second largest film industry in the world and according to available statistics, It is worth $3.3b.
Without a doubt, African Voice Newspaper UK, the organisers of the annual African Film Awards have played a pivotal role. It is encouraging that successive government in Nigeria are beginning to appreciate the contributions of Nollywood to the economy but there is the need for conscious effort on the part of the government to support the expansion of Nollywood into Europe and America".
Prince Mike said the awards has enjoyed the support of UK based African Businesses such as Regency International Clinic, Anne Gift Foundation, Obaseki Solicitors, Gab Associates, Kato Enterprise's distributors of Ultimalt, Travel Centre Clapham agents of flyafricadirect.com, Esther Ajayi Foundation and Love of Christ Generation Church (C & S) London.